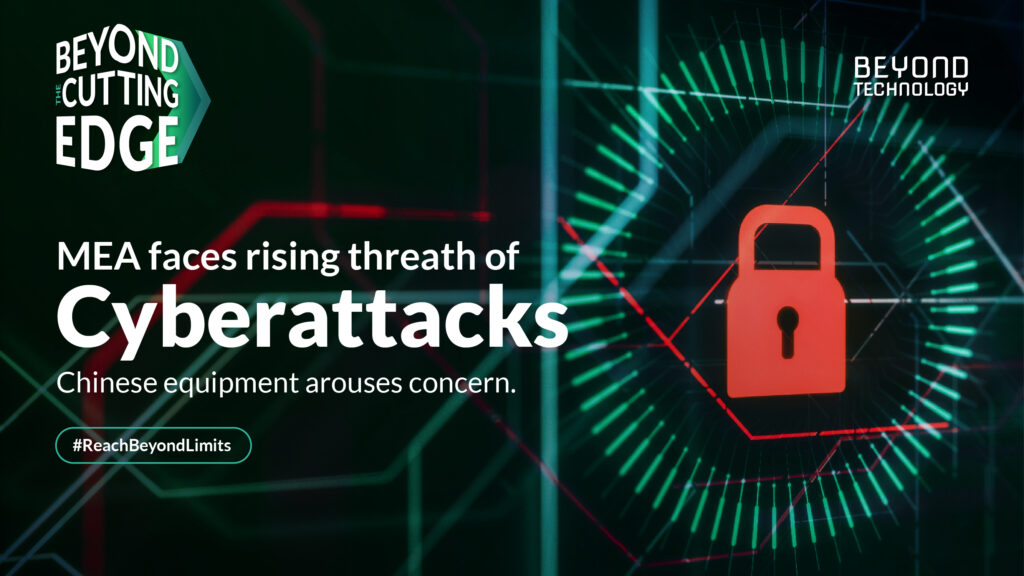 In the past few years, governments and companies from the private sector in the Middle East and Africa (MEA) have been propelling the region to be a world leader in digital transformation. Still, they are facing an increasing challenge in cybersecurity due to the growing presence of malicious actors (cyberattacks) and doubts about the reliability of Chinese equipment, alerted experts.
"It's something that's increasingly a threat, increasingly a concern. And we see a lot of investments, especially by governments, in ensuring the integrity of the systems", said ZOFF KHAN, MEA CEO of Beyond Technology, a global company with more than 30 years of experience in the tech market and active presence in the MEA market.
Khan, who has extensive experience with companies such as British Telecom International, Saudi Telecom, Telecom Italia, Motorola, and EMS Mobile, said "many governments and service providers are concerned about using Chinese equipment" in the region, especially in African countries.
"There's some geopolitics in play, for sure. So, this may be a good chance this year for some new tenders that are coming up where many of the African regions may move back to American vendors rather than continue to use Chinese", added.
The U.S. State Department warned in May that China could launch cyberattacks against its critical infrastructure, including oil and gas pipelines and rail systems after researchers discovered a hacking group allegedly backed by China called "Volt Typhoon" had been spying on such networks.
More security, better business
It's been over a decade since the Arabian peninsula faced the worst hack, targeting Saudi Aramco, the world's largest integrated oil and gas company. In a few hours, 35,000 computers were partially wiped or destroyed. Without a way to pay them, gasoline tank trucks seeking refills had to be turned away. Saudi Aramco's ability to supply 10% of the world's oil was suddenly at risk.
To face that kind of menace, the Middle East's cybersecurity market is expanding overwhelmingly. It is projected to be worth $31 billion by 2030 as governments take measures to protect their infrastructure, showed data from Frost & Sullivan, a consulting solutions provider, released this year.
The research added that the industry's value, about $7.5 billion in 2022, will grow at a compound annual growth rate of nearly 20 percent over the next seven years
Some sectors in the United Arab Emirates are applying technological solutions like SOCIFI, offered by Beyond Technology, to enhance the security of their WI-FI networks, one of the breaches exploited by hackers. Khan explained that the first telecommunications service provider in the country had adopted the solution to provide its customers, like government, banking, or petrol stations, free but secure and reliable public WI-FI.
"The first issue is that they (the customers) allowed somebody to use their WI-FI, and the person could have used the WI-FI for wrong things, malicious use. So, they have no idea who that user was. He was not authenticated", said Khan. "The first value Socifi does is it authenticates users," added.
Additionally, it's important to underline that users have long been considered the network's weakest link ever since the first phishing attempt was recorded in 1996. According to Juniper, one of Beyond Technology's global strategic partners, "When users are forced to think about security or are impacted by security policies, they become the network's worst enemy and work around those policies, opening up additional attack vectors – sometimes without knowing so".
"The principles of Zero Trust as applied to users — authentication, authorization, access, security policies — should follow the user wherever they go to provide a seamless and positive end-user experience," added Juniper on a blog. The company also offers a helpful solution that applies AI to WI-FI with high-security levels.
To combat cyberattacks, cloud solutions like Socifi have become the most reliable tool. According to Khan, "Organizations and governments are realizing this now, and having a greater comfort in the transition to the cloud and knowing that it's safeguarding them versus putting them at risk."
Follow us and read our newsletter on LinkedIn here!