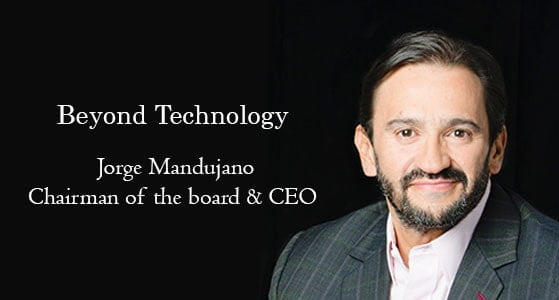 Beyond Technology – Driving Business Transformation through Technology
Incremental improvement is not enough to win in today's highly competitive business environment. An organization needs to evolve itself constantly. An effective Business Transformation can be seen as the opportunity to define a bold ambition that goes beyond incremental change—the opportunity to rethink your business and operating models to deliver breakthrough value. It involves strategic decisions that affect where you'll grow, how your organization operates, and what kinds of performance improvements you can expect.
Beyond Technology is a global corporation focused on enabling Business Transformation through technology. In its 30 years of experience in the IT sector, the company has helped different organizations from all industries in their infrastructure, mobility, IoT, and cybersecurity projects.
By digitally and technologically transforming companies worldwide, Beyond Technology is bringing experiences to users, value to businesses, intelligence to systems, security to processes, innovation to decision making.
The use of new technologies to empower organizations
New technologies empower people by generating more information and implementations that help to adapt and redesign business processes without neglecting that security plays a very important role when it comes to minimizing risks and vulnerabilities. According to the company, these technologies majorly fall into three large blocks:
IoT: To give connected devices the ability to react according to business processes. These devices capture data that is stored in a large volume base (Big Data), to be subsequently analyzed, and based on the results and learning, acted upon to proactively change and improve processes.
AI: Machine Learning & Deep Learning (ML & DL) embedded within Artificial Intelligence help processes react more reliably to the needs of manufacturing companies' customers.
Cybersecurity: A significant role at different levels for general safety design, security in each technological area (devices, network, AI, IoT), and segmented and micro-segmented security by processes.
Long-term strategy using emerging technology for businesses
There are technologies that are necessary today for the strategies of any organization in the short, mid, and long term, such as AI (with ML & DL), IoT, multi-cloud, micro-segmented application development with Kubernetes, and guaranteed security. Beyond Technology encourages any long-term company strategies to always include digital transitions and ensuring that internal and external customer engagements are always a positive and safe experience.
Security and compliance aspects
Risks are dynamic in terms of IT security, and therefore, the security processes must also be dynamic. A company must have a constant review of security mechanisms and the processes that support them and with continuous staff training, which could become the main point of vulnerability.
Keeping security risks at zero is difficult, so the need to have a strategy that considers the three critical layers becomes imperative for companies. This is where micro-segmentation plays a key role in minimizing the impact of any process failure. Additionally, it is crucial to have support from consulting firms such as Beyond Technology to determine the best solution to safeguard sensitive data and business integrity.
The Turbocharge growth
Companies must be aware that technology is useful at any time and in any context, not only information technologies but also specialization technologies or those belonging to the same branch or sector that help improve their commercial offer. The turbocharge growth must ensure accelerated knowledge, use of appropriate information technologies, having connected devices (IoT) that react in a micro-moment, and making sure that specialty technology is appropriately used.
Jorge Mandujano, the Chairman, and CEO of Beyond Technology explain, "The turbocharge growth moment happens when each employee knows their business process, uses technology to make their work more efficient and aligns with the company's overall strategy to goal achievement." He further believes that Technology (both IT and specialty technologies) and trust must evolve together. It is a tight race, but that is why the three security components mentioned above exist.
Driving business transformation
Today, companies are constantly struggling to reinvent themselves. Beyond Technology first understands its clients' requirements and goals, proposes new processes and disruptive applications, and then defines the best technology to support them. It integrates technology and professional services into its clients' operations to create innovative experiences and drive digital transformation.
The BeyondwareTM platform allows, after understanding their processes, to modularly implement pieces of technology that improve each process or micro-process repeated by the organization, adding innovative technology.
For over 30 years, the company has worked with the leading technology providers in the market, tackling different industries. It has implemented communication backbones for the most important carriers in multiple regions, digitized and completely evolved its clients' business processes allowing them to operate more effectively and complying with the regulations of the sectors they operate. Beyond Technology has made developments that allow integrating technologies from different suppliers into a single technological platform that adds value to the business. Currently, its model is divided into two types of projects:
Technology integration in telecom that involves advanced routing, optical, SDN, orchestration and automation, mobility technologies, bots that help automate mobile processes, multi-cloud with the main providers (AWS, Google, and VMware), and network virtualization.
Micro-segmented application development through Kubernetes, specific development of IoT devices according to the business processes to automate and AI integration, specializing in ML & DL.
Beyond Technology's unique business approach aims to work for hand in hand with the client, becoming part of their internal team to understand their unique requirements, challenges and then propose the best solution to assist customers in their journey. Working within rather than from the outside allows Beyond Technology to effectively attend to real needs and business goals.
The advancements in the company's products and services
The company provides products and services that achieve business transformation, either because, with the help of these, its clients can:
Transform business processes
Transform the market
Improve the end customer experience
Under this premise, it offers a wide portfolio of services that ranges from facial expression recognition, development of IoT devices and adapting them to specific business processes, use of technological advances in hardware and software, to the integration of AI. The company selects the leading vendors in
each niche and always keeps itself certified and updated on its technologies at the highest levels of specialization. "Our partners are a critical part of our digital transformation product and service offerings. We have had some of our partnerships since day 1 of our 30-year journey, but we constantly evaluate market demands and see how we can continue to lead in meeting our customers' needs with new partners as well," says Jorge. Beyond Technology caters to a wide range of sectors such as transportation, education, banking, telecoms, retail, energy, and healthcare.
About the CEO
Jorge Mandujano is the Chairman of the board and CEO at Beyond Technology since 2019. Currently, he is also the Chairman of the board of GEMA, a Switzerland-based company with global coverage for Mobile Device Management Solutions. Jorge started his career as a support engineer, and during his professional life, he has held roles ranging from database specialist, systems manager, technology director, salesman, commercial director, marketing director, and general director to the current position of CEO & Chairman of the board.
His extensive experience in commercial and technical areas has allowed him to know from batch processes to high technologies, through the beginnings of AI, current operating systems, Machine Learning & Deep Learning, hierarchical and relational databases, to current database management consoles.
"We have been developing, implementing, and supporting technology projects for different industries around the world for more than 30 years."