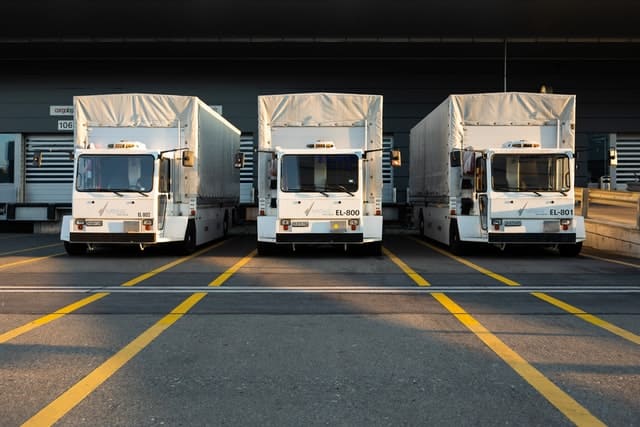 Are you looking for a fleet manager for your vehicle fleet? Then, we tell you what to consider and why to think about B-Fleet Innovation.
There are many reasons why a company decides to have a fleet of vehicles: it may be the core of its business or a cornerstone in the logistics, or it may serve to have more and better control over the transportation available to employees for specific business needs. Regardless of the reason, having a dedicated fleet can bring many benefits to companies. The first, for example, is to save on other types of transportation costs or to have total control over the transportation of goods. Depending on the case, having a vehicle fleet may be the best solution. Still, you can't have one without thinking about a good Vehicle Fleet Productivity Manager within fleet management.
Every business fleet must have a plan for its management and control. This plan is to control entries and exits, expenses and to act in case of incidents. A Vehicle Fleet Manager allows you to be prepared for everything, avoid problems and give professional follow-up to each vehicle.
Managing a fleet requires knowledge of costs and maintenance. Not only do you need drivers who are thoroughly trained and sound in the area of driving and its rules, but people who work to follow up and diagnose. By force, you must consider:
A well-controlled inventory to understand fuel expenses, repairs, and more.
A chain of reporting and management of accidents and repairs.
Thorough control of license expirations, circulation cards, tenure, and dates for verifications.
A vehicle tracking system to avoid theft, delays, and confusion in assignments.
Fortunately, technology has become an invaluable ally, and today you can count on a Fleet Productivity Manager for these tasks. In addition, the automation of several of these points allows more efficiency from data analysis.
Why do I need a vehicle fleet manager instead of doing it manually?
It is a very valid question. For a long time, management worked manually. And although most of the time, with the right employees, the work was impeccable, there were always some risks, including loss of data, errors in transcriptions of records, or incomplete records.
B-Fleet Innovation: the best Fleet Productivity Manager for vehicle fleets
Once you decide to have a fleet of vehicles for the company and manage it correctly, the next step is to find the ideal Management Solution. For that, there is B-Fleet Innovation.
This software allows you to keep track of the entire fleet to maintain the integrity and safety of vehicles and drivers. By having a unique GPS, the whole fleet operation improves, and under its control, avoid accidents, weather delays, and much more. Additionally, the manager allows you to monitor essential things such as safety, speed, braking system, and other driver habits, analyze and transcribe them, managing optimization and improvement in the productivity of the day-to-day operation.
Having a fleet manager in place creates a smooth workflow. Trust in the drivers improves, also drivers' trust in the company because they feel protected. Customer service in logistics turns to excellence; costs reduce, processes shorten. The cost reduction, for example, comes precisely from all the savings in accidents. Cycles are abbreviated because efficient and timely monitoring avoids wasted time on last-minute repairs, incidents, and insurance transactions.
From small businesses to large companies, if they have a vehicle fleet, they need a 360 Solution to manage it and its productivity. The flexibility, security, and scalability of the right choice are unmatched.  As a result, the fleet keeps in top conditions; drivers perform at their best, and times become more accurate. If you want the best management for your business fleet, make sure you have the right vehicle fleet manager. In Beyond Technology, we advise you to get the maximum benefits of fleet management; contact us! Ensure productivity reports, fuel usage, performance, and optimization of your investment. Innovate in logistics, mobility, and transportation with the best tools; we help you.