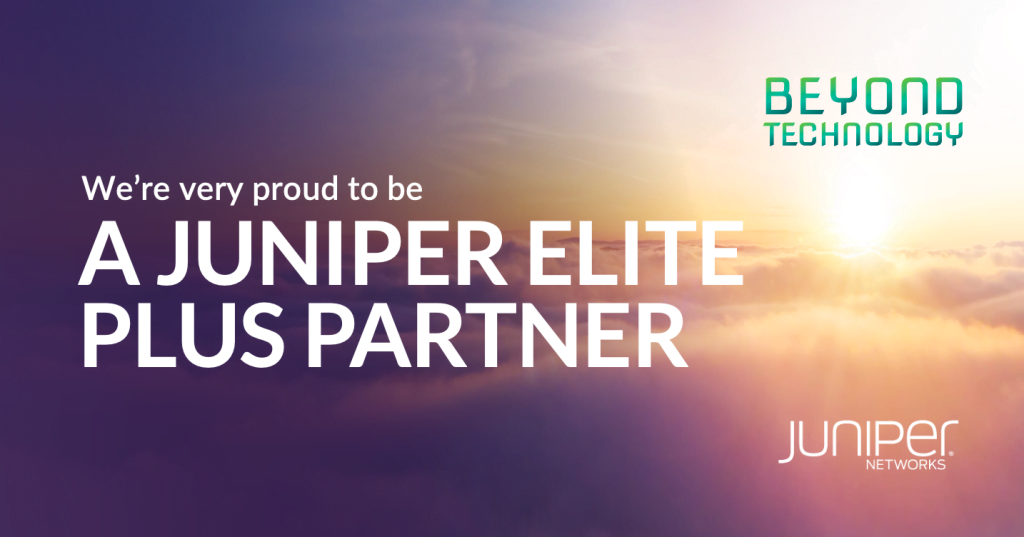 At Beyond, we're an Elite Plus Partner of Juniper and continue growing for our customers' benefit
Beyond Technology continues to specialize in driving the development of our customers and their business plans.
In addition, we recently received recognition by Juniper Network as an Elite Plus Partner. Thanks to our expertise in their recent acquisitions and most innovative solutions, such as AI-Driven Enterprise (Mist), SD-WAN (128 Technology), and Network Automation.
Therefore, we bring these solutions to our customers to provide them with information, automation, security, and artificial intelligence, enabling them to generate real business results.
What is Juniper Networks Elite Plus Level?
Juniper Networks is dedicated to dramatically simplifying network operations and driving superior end-user experiences.
As of January of this year, Juniper Networks has a higher-level partner program, known as the Elite Plus level.
This tier features a revamped engagement platform that takes a collaborative sales approach.
It also features upgrades that provide an enriched learning experience to help partners expand their platform knowledge.
As such, this level will maximize business growth opportunities. Thus, the Elite Plus level offers "support, investment, and superior rewards" and resources dedicated to commercial development and demand generation.
By acquiring Juniper's Elite Plus Partner level, Beyond Technology grows and develops to offer better alternatives to our customers.
These alternatives include innovative technologies and new options and solutions, which cover all aspects of our customers' organizations. Hence, allowing us to drive greater engagement and opportunities.
Benefits of the Elite Plus level
As we mentioned, AI-Driven Enterprise (Mist), SD-WAN (128 Technology), Corero, and others are some of Juniper solutions' specializations.
However, with the new Elite Plus Partner level, Beyond Technology can offer more technological options to our customers for the benefit of their businesses, bringing them even closer to the future.
Moreover, some of the advantages of the Elite Plus level that will allow us to support our customers' growth are as follows:
Elite Plus Level: This new level offers superior support, investment, and rewards with resources dedicated to business development and demand generation.
Communities Partner: New platform enhancements are also reflected in the champion communities. Which now features sales and technical features, virtual workspaces for Juniper, and partner sales collaboration. In addition, partners will have access to continuous learning through a variety of tools.
Virtual Sales Pods: Virtual sales pods create shared workspaces where Juniper partners and experts communicate in real-time.
New Learning Academy platform: Serves as a resource for new content and webinars to drive member training and accelerate their business success.
Rewards: Juniper rewards partners for registering for new opportunities.
Beyond Technology grows with partnerships
Being an Elite Plus Partner will allow us to offer our partners better solutions in AI, automation, security, and network operations. As well as to better adapt to their needs and successfully implement their projects.
If you are not a customer yet and are interested in the options we offer as a Juniper Elite Plus Partner, don't hesitate to contact us.
Ask one of our consultants for all the information you need.