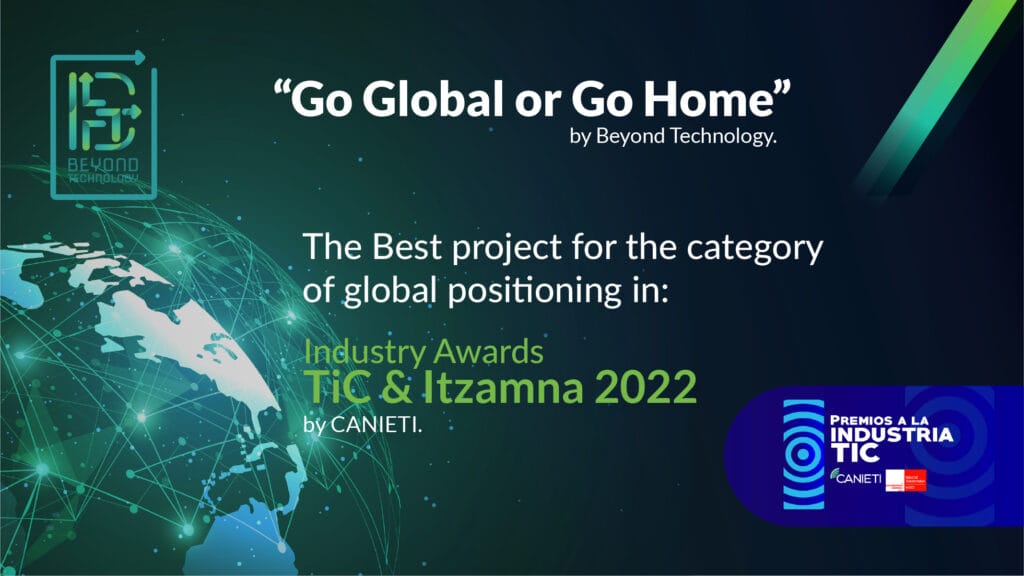 Beyond Technology is the winner of CANIETI's Global Positioning Award.
"Go global or go home" is an initiative that offers a guide for digitise and manage business processes globally while respecting local regulations.
On October 4, 2022, the "Information and Communication Technology (ICT) and Itzamná 2022 Industry Awards" ceremony of the National Chamber of the Electronics, Telecommunications and Information Technology Industry (CANIETI) was held in alliance with Hannover Messe at the Bicentennial Theatre in the city of León, Guanajuato.
Enrique Yamuni, President of CANIETI, said the six awards presented were in recognition of projects that have great value for industry and society. They were chosen from more than 60 projects and received more than 5,000 votes.
Beyond Technology, a company with more than 30 years of experience in Mexico focused on transforming business through technology, won the "Global Positioning" award for its "Go global or go home" initiative. This category considers companies that carry out actions aimed at positioning Mexico in exports, investment attraction and business expansion at a global level.
In the case of Beyond Technology, these actions include its presence in countries such as the United Arab Emirates, Pakistan, the United States, Colombia and Mexico with offices that operate under its Beyond Essence philosophy, which seeks to balance work and personal life, as well as to establish the framework of responsibility of each collaborator in the global and local strategy.
Beyond Technology's vision is to create and strengthen a new movement that redefines business success through an ecosystem that generates well-being and significance for employees, customers, business partners, investors and society in general, while creating a positive impact on the environment.
The award presented by Luigi de Chiara – Italian Ambassador to Mexico – was received by Emmanuel Echeverría, Chief Business Transformation Officer of Beyond Technology, who said in his acceptance speech that:
"Every day it is more common to see Mexicans succeeding in other countries and in various disciplines. It is time that we also get used to seeing companies competing and leading in Industry 4.0, a challenge that requires a lot of resources and infrastructure. And it is here where IT companies can support the automation and digitisation of processes that allow us to have a high level of competitiveness that meets the demands of immediacy, quality and visibility that our consumers demand".
The event was attended by the Governor of Guanajuato Diego Sinhue Rodríguez Vallejo as well as representatives from different companies in the ICT sector, including Enrique Yamuni, National President of CANIETI; José Abugaber, President of CONCAMIN and Alfredo Pacheco, General Director of CANIETI.
To find out more, contact us.