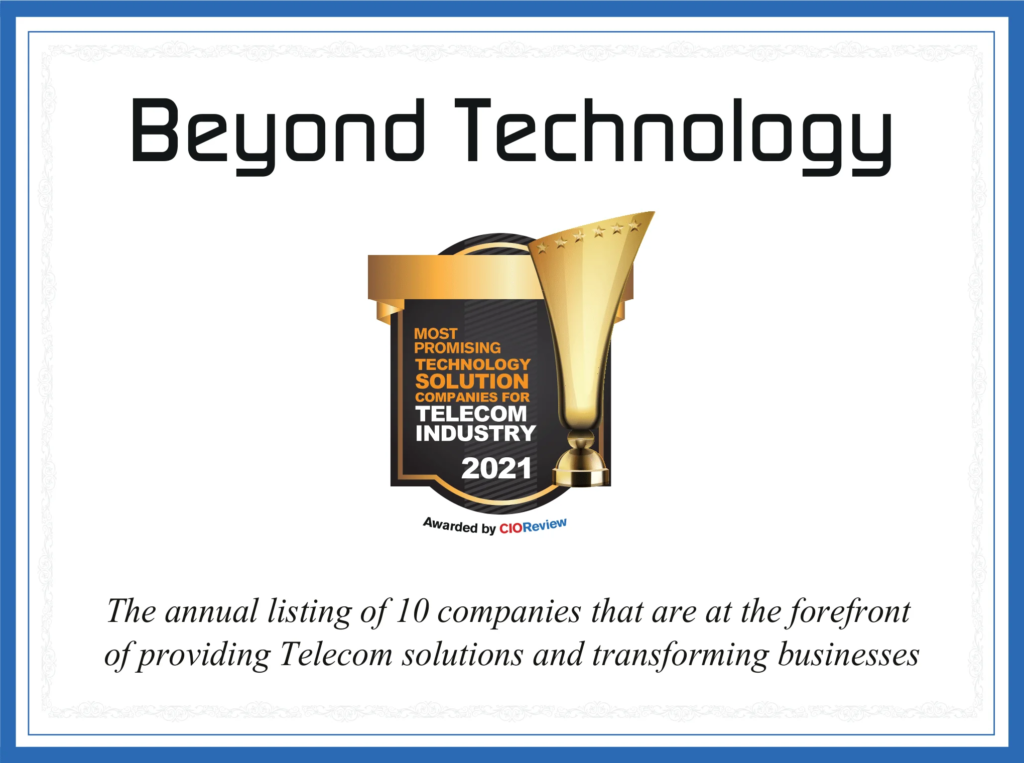 Fast-paced innovation is the order of the day. This is especially true for businesses operating in the telecom industry – an industry is known for its disruptive, transformative nature. Frequently facing issues in optimizing networks and upgrading technology, telecom companies, or telcos need to continually reinvent themselves to stay ahead of the competition and provide a better experience to end-users.
Enabling business transformation
for both telcos and enterprises is Beyond Technology a Miami, Florida-based tech solutions company that integrates technology and services to aid the reinvention of organizations for today's digital world.
Offering state-of-the-art technology and services, like cloud data centers, centralized management of network infrastructure, and enabling 5G deployments, Beyond Technology employs the most effective and relevant technology to help organizations reinvent themselves.
"We have the vision to become the first option to transform companies," says Jorge Mandujano, Chairman of the Board and CEO, Beyond Technology. "We believe that it's not just a matter of technology, it is how we can apply technology to the business processes of different companies with personal and professional empathy".
Business Model
Beyond Technology's value-added proposal model involves the creation of an orchestrated framework, based on which personalized, automated solutions for individual telcos are developed. The model, Mandujano explains, involves two parts comprising two areas each. One part consists of business transformation strategies and the application of AI, while the other deals with applying suitable technology and collaborating with tech giants like Juniper, VMware, Google, Amazon, Infinera to perform technology integrations. "One of the key objectives of our company is to always achieve the highest level of certification of each of the vendor partners," Mandujano mentions.
With a well-trained and experienced workforce, They combine these four areas to deliver value to their customers' businesses using a two-step process.
First, it sells, installs, and supports reliable equipment according to carriers' needs and then deploys software-defined networking (SDN) to flexibly deliver bandwidth to carriers' changing demands. To this end, Mandujano mentions an instance where a telco with around 600 routers required manual changing of bandwidth configuration – a highly cumbersome task. Beyond Technology was able to automate the entire configuration process with the hardware and do it quickly by developing applications that interact with the hardware – saving time, costs, and resources.
Equipped with years of experience, knowledge, and skills, Beyond Technology solves issues of service providers and other organizations pertaining to network optimization and efficiency with added features and functionalities.
"Automation, orchestration, and identifying areas for improving processes and operations – that's where Beyond Technology shines,"
says William Rodríguez, CEO-USA for Beyond Technology, adding that these offerings help telcos differentiate themselves in the market. Using AI to optimize remote tutoring is one such offering, as Zoff Khan, CEO-MEA, Beyond Technology, states, "We found a solution using AI to evaluate student engagement during online classes, and also to detect through facial expressions proper and ethical conducting of online exams."
Additionally, Beyond Technology intends to incorporate infrastructure-level professional services to support 5G deployments. Already in the implementation stage in the US, Beyond Technology intends to provide 5G services to Africa and the Middle East.
Notably, Beyond Technology's model comes with an embedded sense of social responsibility. To this end, Beyond has formulated activities to maintain work-life balance for employees, along with setting up a foundation ensuring education and healthcare access to impoverished coffee plantation workers in Mexico. Clearly, Beyond truly lives up to its name by going beyond technology to serve people and businesses.
Looking to create long-term customer partnerships and generating positive word-of-mouth publicity, Beyond is keen on transforming more and more businesses. Going forward, the plans to set up offices in Europe, based in Spain, and Brazil, with Singapore also on the radar for the Asia market. "The most important value that we have is our work culture—Beyond Essence," Mandujano asserts, referring to the Beyond strategy model. "And the goal is to export our strong culture, teamwork, and excellence to our customers, to always be able to differentiate ourselves from the competitors, and continue our successful growth."