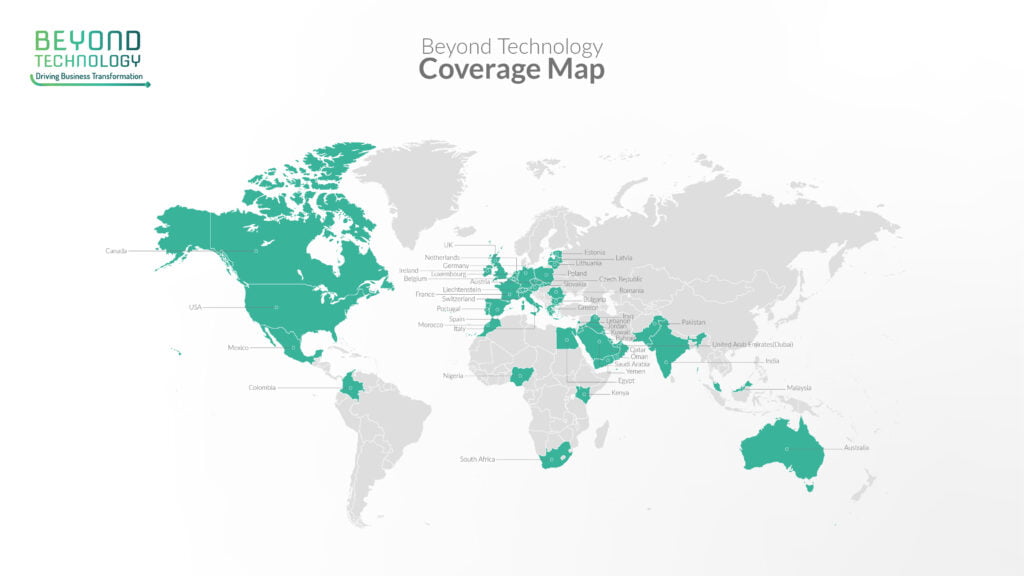 The company, with headquarters in the United States and offices in Mexico, Latin America, the Middle East, and North Africa is opening offices in Madrid and Barcelona to provide companies in Spain and Portugal with its unique and comprehensive offer.
Madrid/ Barcelona, February 20, 2023.- Beyond Technology announces the expansion of its global reach into Spain and Portugal, where it will share its 30 years of industry expertise with businesses looking to modernize their company operations while strongly emphasizing sustainability.
With an operation in more than 80 countries, through its leading global mobility company: GEMA, the company has successfully registered more than 642 implementations in sectors such as finance, retail, telecommunications, healthcare, hospitality, services, manufacturing, education, transportation, and logistics. In addition, it has just supported a service provider to increase its network infrastructure during the 2022 FIFA World Cup in Qatar to meet some of the increased local demand for data traffic.
Now, it seeks to become the first choice for European companies in the selection and integration of disruptive technologies. These technologies allow them to make a leap in quality and efficiency in their business processes, improving the user experience, increasing the value of their business, strengthening the intelligence of their systems, increasing the security of their operations, and promoting innovation for assertive decision-making and optimal results. All of this with 99.9999% reliability in the supply of its services previously accredited in Mexico with service providers and telecommunications clients.
"For our global expansion, Spain is a key market for Beyond Technology and its strategic partners, with the clear objective of positioning our Beyond Essence culture, based on a philosophy of life balance, constant training and certification of our employees," said Beyond Technology CEO and Chairman of the Board, Jorge Mandujano.
Artificial intelligence-driven network infrastructure or data center network automation are some services Beyond Technology can offer, backed by global partners such as Juniper, Infinera, VMware, Google, AWS, and Microsoft.
In addition, its services include an offer of facial expression recognition technology that allows its clients to achieve a greater connection with audiences and make better business decisions. Internet of things solutions with which valuable information is obtained when business transactions are carried out, whether it is generated by a human being or by devices. The improvement of the user experience, thanks to artificial intelligence and the virtualization of data centers in the cloud, are other of its services.
The United States, Mexico, Colombia, Dubai, and Pakistan are the territories where the company has offices, in addition to Morocco and Qatar, where it also has operations.
In recent years, the Spanish market has seen an increase in the use of technology within organizations. That is where Beyond Technology intends to make a difference with its value proposition. Through consulting, services, hardware, and software according to the local sector demands and technological trends.
Even before the coronavirus pandemic, Spain occupied first among the European countries with the highest scientific and technological development, an area whose growth has soared again due to the incessant advances and new work schemes adopted by many companies. According to Ametic's Digital Economy Barometer 2022, the Spanish technology sector had a turnover of 114,493 million euros in 2021, 5.2% more than in the previous year, thus recovering pre-pandemic growth rates and approaching the high growth levels of 2018, 2017, and 2016, above 6%.
Beyond Technology's goal is to expand further into Eastern Europe.
"We are sure that Spain, with its rapid economic, social and technological development in little more than four decades, can be an excellent reference and a platform of knowledge in models of implementation of technological solutions for these countries" of Eastern Europe, said Beyond Technology Europe CEO Jose Luis Martin.
In this new phase of its international expansion, the company also intends to maintain its global philosophy based on redefining business success. This philosophy generates well-being and significance for the ecosystem of employees, customers, strategic partners, and citizens while positively impacting the environment. The care and constant attention to the projects in each of its phases, recognized with about a hundred certifications and complemented by the search for the life balance of employees, are the path chosen by Beyond Technology to ensure that its strategic customers are also in the long term.
Our leaders:
Global: Jorge Mandujano, CEO & Chairman of the board of Beyond Technology.
Local: Jose Luis Martín, CEO of Beyond Technology Europe.
Our Locations
Miami and Dallas in the United States; Mexico City, Merida, Puebla, and Monterrey in Mexico; Bogota, Colombia -from where we operate the strategy for Latam-; Islamabad, Pakistan for APAC; Dubai, UAE for the EM region; Morocco for Africa and now Madrid, Spain for Europe.