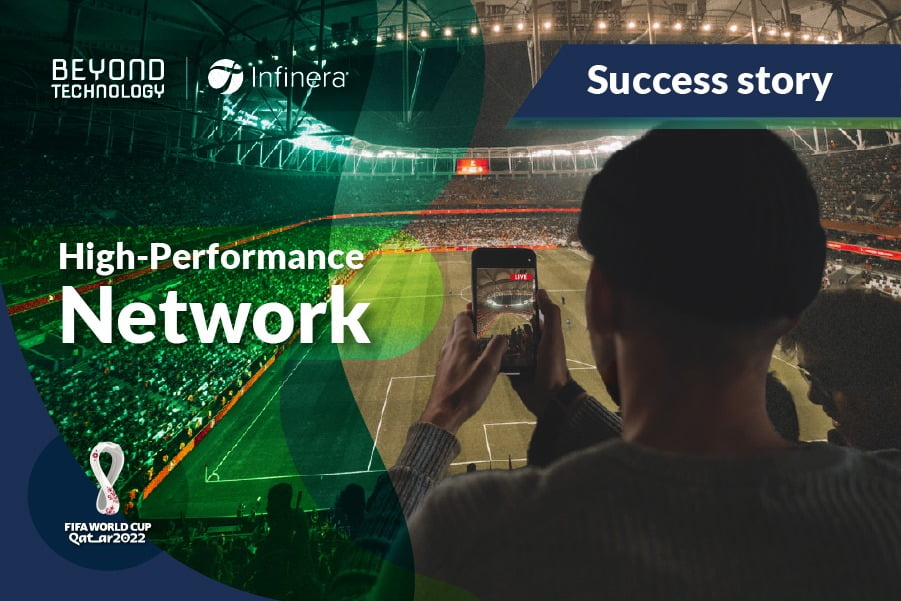 Beyond Technology as a global player in technology transformation with our great partner Infinera, we successfully implemented a 3.6 Terabit network for a leading network operator in the Middle East to support the increase in global and local demand for the 2022 FIFA World Cup. Powered by Infinera's industry-leading technology: ICE6 800G, installed in record time ahead of this sports tournament, in support of one of the world's largest broadcast platforms . The implementation ensured fast, smooth, high-quality and uninterrupted connectivity for sports fans around the world.
This capacity upgrade was enabled by our team for one of the largest telecommunications companies in the Middle East, North Africa and Asia Pacific, to cope with the substantial increase in demand and enable a smooth streaming experience for end users.
Qatar, a country with a population of around 3 million, welcomed almost 1.5 million visitors during the 4-week long sporting event. In addition to providing global streaming services, the upgrade ensured that the network could support local streaming services for up to 500,000 people per day.
As a Gold Partner of the select PartnerPlus program, Infinera selected ICE6 800G technology for this critical project. "ICE6 technology builds on Infinera's legacy of delivering innovative optical solutions that provide significant value for our customers. The industry-leading performance and economy of ICE6, coupled with our strong presence in the region, enabled our customer to deliver a high-quality streaming experience for World Cup fans," said Nick Walden, Infinera's Senior Vice President of Worldwide Sales.
Today we have been constantly recognized for our efficiency and agility in managing international projects like this one. With a technology agnostic approach and partner collaboration, we leverage the latest network solutions and deliver the greatest value to our customers. "We will continue promoting a movement to redefine the success of companies, creating well-being and transcendence in the ecosystem at the same time, transforming business processes through disruptive and reliable technology," said Jorge Mandujano, CEO and Chairman of the Board of Directors of Beyond Technology.