Our story begins in 1991, as Inster, a cabling company. For almost 20 years, we were building, learning from our mistakes and our successes, but overall we made great friends and colleagues who accompany us to this day. From our beginnings, we were clear that our value would always be innovation and service; this motivated us to create Bmobile in 2012.
We incorporated new innovative products and services that allowed us to continue growing and dreaming. Because of this dream, in 2018, we decided to evolve and become a global company creating Beyond Technology. We studied our customers' industries, their goals, and our vision, and we found a gap between new technologies, the changing market, and our customers' ability to address both. With this in mind, we deconstructed and reinvented ourselves as Beyond Technology so that each organization we work with goes "beyond" technology integrations and together turns them into Business Transformation projects. With 30 years of experience in the IT sector, we help organizations from all industries with infrastructure, mobility, IoT, and cybersecurity projects.
For 30 years, we have worked in our service philosophy, focusing on measuring and improving customer and collaborators' satisfaction. We find interchange between them, so they are equally important. We are always looking for tools, methodologies, and practices that help us improve their satisfaction and establish long-term relationships. The attention to manufacturers is the same as that of a customer, allowing them to engage with us.
Beyond Technology has a clear vocation and conviction to be different, so we developed the "Beyond Profile." It has allowed us to transmit and consolidate our philosophy, which includes the integral vision of the human being, so we involve and recognize each of our employees as a critical piece, taking into account their opinions and contributions. Our approach generates opportunities for everyone and the awareness that everyone creates their development and career plan.
Beyond, digitally and technologically transforming companies worldwide, brings experience to users, value to the business, intelligence to systems, security to processes, and innovation to decision-making.
We are in a great moment; today, we have a presence in America, the Middle East, and Africa; and our next step will be Europe, South America, and Asia. We are looking for new opportunities and new talent that will allow us to continue growing within our ecosystem. It has been 30 years, and it is only the beginning of many more.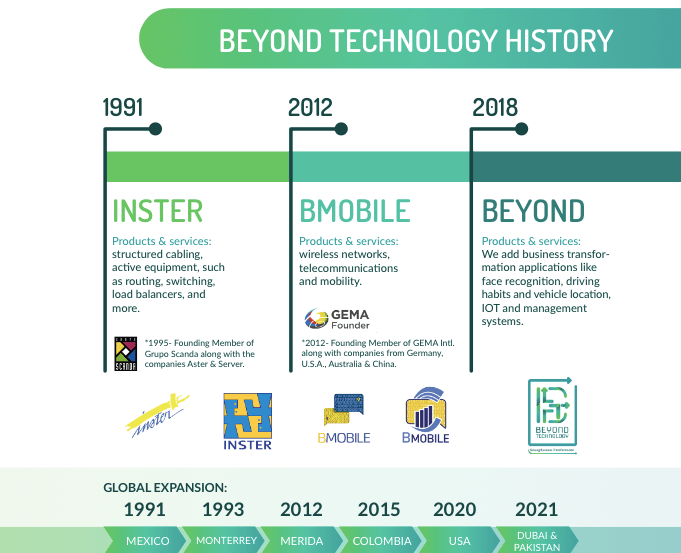 At Beyond, "we understand that we are a team in an ecosystem (customers, suppliers, society, employees, and partners) oriented towards achieving sustainable results without compromising economic growth, the environment, and social well-being."