We design applications and integrate technological systems based on the specific needs of companies.

Develop lines of code that enable tasks to be performed in a digital environment.

Technologies
Python
Java
Ansible
NoteJS
Android
iOS
Objective C
Swift

Define the way a system works: model, structure, operation, and interaction between the different parts of the software design.
Technologies
Models
Views
Diagrams
Workflows
SOA
Client-server
Cloud
Pipeline
MSA
MVC

Web/Desktop/
Mobile/Hybrid
Build any device, in any environment and operating system.

Technologies
Android
iOS
Web
Windows
Linux
MacOS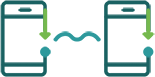 Convert web pages into mobile applications.
Technologies
Google
Angular
React
HTML
CSS
JavaScript
Service Workers