Our operational services are designed to cover maximizing the availability of the IT infrastructure.

We offer specialized technical support available 24/7 and in more than 30 languages.


With our IT system installation and configuration service, we help you accelerate technology adoption.


We deploy ready-to-use IT infrastructure as soon as it is turned on.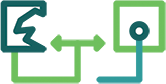 We implemented a simple and efficient technology repair and replacement process.


We take care of the IT infrastructure purchasing and procurement process to free up human and time resources.


We make sure to provide excellent quality of service and customer experience.


We have the capability to deliver IT products and services worldwide in a standardized way.


We fully manage the IT infrastructure throughout its lifecycle.