We manage the network in a dynamic and simplified way in order to easily adapt it to the needs and traffic of the business.

Optimize and simplify the network experience with Artificial Intelligence and Data Science, through IT infrastructure and projects.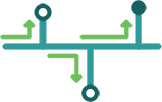 Drastically reduce resource management and orchestration times in the integration of network components.

We implement configuration and task automation tools to deliver customized and optimized network services for troubleshooting.

Virtualize the network for automation to obtain better visibility, flexible management, and applied security.