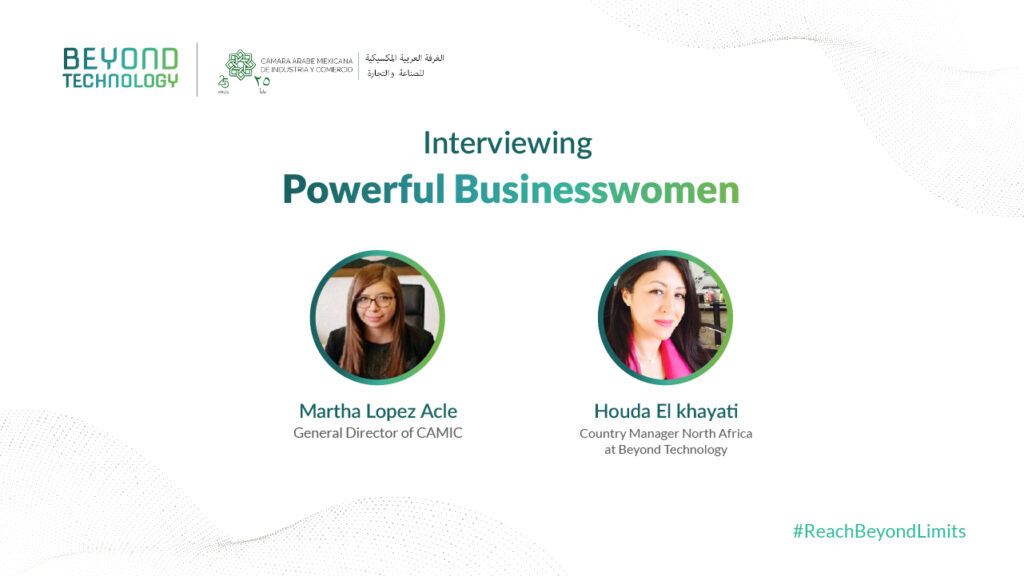 We are in close contact with companies and chambers of commerce working together to explore new business opportunities in different parts of the world. The difference comes when these efforts are led by two women in top executive roles and with outstanding professional careers, as recently happened between the global tech company Beyond Technology and the Arab Mexican Chamber of Industry and Commerce (CAMIC, for its Spanish acronym).
Beyond Technology's North Africa Country Manager, Houda El Khayati, and CAMIC Director General, Martha Lopez Acle, have just completed a productive meeting to define how the company can take advantage of its more than 30 years of experience in the market helping other companies transform their processes through technology and with a sustainability approach to enhance its contribution to Middle East and North Africa region and how can the chamber foster the process by bringing useful data through business intelligence and establish links with stakeholders. "We want to be a part of a greater world while we're joining organizations. So, diversity, equity, and inclusion are taking center stage in all this change, and it will be one of the major shifts in the region. The good thing I'm happy about is that women are at the heart of this change", said El Khayati during the meeting.
Based in Morocco, the Beyond Technology executive has worked on major new technologies and telecommunications projects across the MENA region with key Telecom vendors such as Motorola, Blackberry, and Apple.
Lopez, based in Mexico, has more than ten years of experience in foreign trade promotion, allowing Mexican businesses to venture into other markets, working in organizations such as ProChile Mexico and TAITRA Mexico before her role in CAMIC, an organization founded in 1997.
The Arab Mexican Chamber aims to foster commercial relations between Mexico and the 22 countries that form the Arab League. In the past two and a half decades, it has supported companies to expand their commercial reach in new markets through trade and economic publications. Maintaining contact with businesses and ambassadors; and organizing events and missions.
"We have a lot of things in common between our countries," explained Lopez. In her opinion, "the governments of the different countries in the Arab region and Mexico are trying to diversify" their markets. That offers a unique opportunity for the automotive and food and beverage industries. These industries are where Mexico is among the biggest producers and exporters in the world.
"A world of opportunities"
At the launching of its last World Economic Outlook, the International Monetary Fund (IMF) reported that the Middle East and North Africa region was projected to grow at 5% in 2022, up from 4.1% in 2021.
"The region, as a whole, saw one of the strongest growths globally in 2022, and Saudi Arabia is the leading country of this growth. It is estimated by the IMF to be the strongest growing G20 economy in 2022. It has even overtaken countries like India", said El Khayati. Most importantly, "when we are talking about Saudi Arabia, it's not only the oil sector. The growth also comes from the non-oil sector", El Khayati complimented.
According to the Beyond Technology executive, Saudi Arabia and the United Arab Emirates will likely spend 34.6 billion and 20 billion, respectively, to be among the leaders in the region's digital economic transformation.
"The IT sector is growing right now in the region. So, the opportunity is huge in different areas, different sectors, with the technology you are providing," said Lopez about Beyond Technology's options. As well as in other regions of the world, the COVID-19 pandemic accelerated in MENA a lot of processes that people and companies were not used to. Morocco, for instance, took the lead in digital commerce in the retail sector. "It's a world of opportunities," she added.
With headquarters in the United States and offices in Mexico, Latin America, MENA, APAC, and Europe, Beyond Technology has completed over 600 implementations worldwide in the manufacturing, transport, logistics, and retail sectors. The company also works in finance, telecommunications, health, hospitality, services, and education.
Beyond Technology is working with telecommunications providers and operators in MENA on different cybersecurity and fiber networking projects. "We try to work collaboratively with our customers to understand their challenges (…) with our strategic vision to drive the business and the digital transformation across the different industries with much more focus on the telcos, the telecommunications operators," said El Khayati.
"Our commitment to the region is undeniable," added, outpointing Beyond Technology's interest in providing companies in MENA its "effective B2B model that puts costumers at the focal point."
At the end of 2022, Beyond Technology and its strategic partner Infinera, a pioneer of advanced optical networking solutions, collaborated to support a service provider's increase of its network infrastructure during the 2022 FIFA World Cup in Qatar to support the increase in local internet traffic demand.
In March, the company co-sponsored with Infinera the Capacity Middle East 2023, the annual event for telecommunications, media, and technology (TMT) industry stakeholders in Dubai, UAE.
Now, it aims to become the first option for companies in the MENA region in the selection and integration of disruptive technologies. These technologies will allow them to make a difference in the quality and efficiency of their business processes. They will be able to improve the experience for their users, increasing the value of their activities, strengthening the intelligence of their systems, enhancing the security of their processes, and favor innovation for assertive decision-making with optimal results.
And women's leadership can play a crucial role.
"As a woman that comes from this region, I remember back in the days. I used to attend meetings where I was the only woman at the table, especially coming from a technology background. I'm not saying that I wasn't happy, but I'm a believer that we complement each other", explained El Khayati.
"I always wanted to see more young women who are in Technology around the table, and I'm happy that now, that's my personal experience in the sector over the last seven to eight years, it is drastically changing in the region, and we see more women involved in the technology transformation of the countries," added, citing, for example, the ministry of Digital Transformation and Administration Reform in Morocco, Ghita Mezzour.
Now, thanks to two outstanding women, Beyond Technology and CAMIC can go even further in their successful collaboration.
Our leaders:
Jorge Mandujano, CEO & Chairman of the board of Beyond Technology.
Zoff Khan, CEO of Beyond Technology MEA.
Houda El Khayati, Country Manager North Africa
Our Headquarters:
Miami and Dallas in the United States; Mexico City, Merida, Puebla, and Monterrey in Mexico; Bogotá, Colombia -from where we operate the strategy for Latam-; Islamabad, Pakistan for APAC; Dubai, UAE for the ME region; Morocco for Africa, and Madrid and Barcelona, Spain for Europe.
Find us at: www.beyondtechnology.net
LinkedIn: Beyond Technology MEA
Press contact: Beatriz Fenner, ACME Agency. Cel. (+52) 55 27279347. Mail: [email protected]